Educational series for customers and dealers delivering diverse information about the pjur brand
pjur sets focus on quality
pjur's uncompromising focus on quality, investing in certified production processes and registering all its personal lubricants under medical class IIa is paying off.
pjur has received more than 40 industry awards during the last 25 years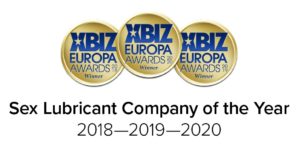 pjur is the only brand in the adult industry that has all its personal lubricants registered under medical class IIb, fulfilling the highest criteria according to EU norms and regulations [ISO-13485:2016]. Consistent high quality is guaranteed through annual audits
pjur is the only privately-owned European lubricant brand to fulfil all regulations of the American FDA and that is certified to sell its products on the North American market
The symbols on our labels have a meaning
How can I tell if a product is a medical device? What should I look out for when choosing products?
CE-mark and a four-digit number displayed of the notified body (see top left on the label)
product is marketed as a medical device (see bottom on the label)
pjur is using only the highest-quality ingredients
Some ingredients like silicone can heavily vary in both quality and consumer experience
When it comes to health care, we want the best for consumers. Personal Lubes come into contact with some of the most intimate and sensitive areas of the body, therefore pjur ensures that its products are safe, clean and dependable.
Our certified German manufacturing facility only uses the highest-quality ingredients to guarantee highest-quality intimate products »Made in Germany«.
Benefits of Silicones in Personal Lubricants
Lubricate the skin
Does not block pores
Provides extra long glideability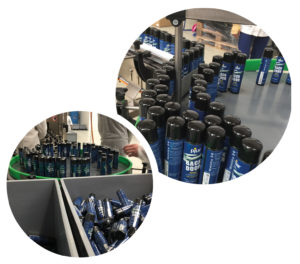 pjur has something to offer
pjur's strategy has led and still leads to an on-going commercial success:
pjur being the leading personal lubricant brand on the European Adult market
pjur ORIGINAL being the world's #1 best-selling silicone-based personal lubricant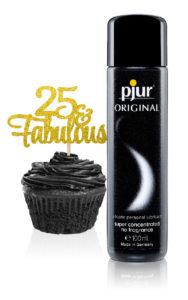 pjur has aimed to set new standards within the industry with their market-oriented approach:
A strong brand: Development of campaigns to attract and develop new target groups
POS Excellence: Brand Space Concept, state-of-the-art in store branding
Sales expertise: pjur has expanded and grown its business to a network of whopping 70 countries, where pjur products are sold today
You benefit from working with Sugar & Sas
Partnering exclusively with Sugar&Sas since 2019 meant another step forward for pjur:
Local sales contact to guarantee high-class on-site* support and easy order procedures from warehouse in Australia (*depending on Covid situation)
Offer for face-to-face* trainings for sales personnel (*depending on Covid situation)
Direct feedback (through Sugar&Sas) to place customer needs and preferences with pjur headquarter
pjur is a family-owned company since 1995
pjur puts heart and soul into what they do for more than 25 years now.
The pjur group started producing lubricants in Germany in 1995.
With Alexander Giebel at the helm and headquartered in Luxembourg, the pjur group has maintained its production facilities in Germany, and has expanded rapidly into other countries, attaining a high degree of brand awareness in the process.
They engage in long-term and responsible entrepreneurship and fulfil their mission with selected partners who share and represent their values.
pjur lubricants come in many different packaging sizes
Depending on different needs, pjur provides sizes from the 1.5 ml sachet for one time use to the 1,000 ml bottle.
Sachet: The ideal size for samples (1.5 ml or 2 ml) and the perfect tool for targeted product sales. Provides enough content for one to two applications.
10 ml: For extensive testing and up to ten applications.
30 ml: Perfect for trips and on the move. Fits in every handbag or cosmetics bag. For 20 to 25 applications.
100 ml: pjur's standard size for home use. The ideal size for all conventional shop shelving and rapid product rotation.
250 ml: Special economy size offering great value for money (price vs. amount).
500 ml*: Optimum size for daily use.
1000 ml*: Size for heavy users. Also suitable for refilling smaller containers.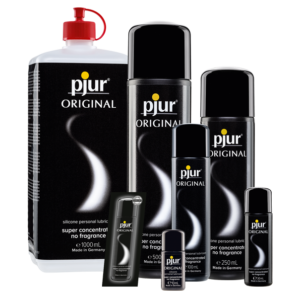 *only pjur ORIGINAL
pjur offers dedicated products for erotic toys
pjur Toy Lube: The combination of water and silicone results in a creamy lubricant that can be accurately applied to toys.
Non-drip, high precision dosage
For all sex toys
Creamy consistency with extra long-lasting glideability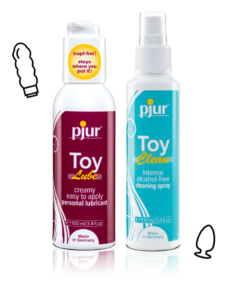 pjur Toy Clean: Keeping erotic accessories clean is crucial for ensuring a healthy sex life
Alcohol- and perfume-free
Cleaning spray for the hygienic cleansing of all sex toys
Dermatologically tested
pjur has the right products to stimulate senses – every time!
In addition to providing outstanding lubrication, some of our products contain special additives that deliver a tangible dual effect for that extra-special something. The additives are natural or naturally derived ingredients such as ginkgo or ginseng.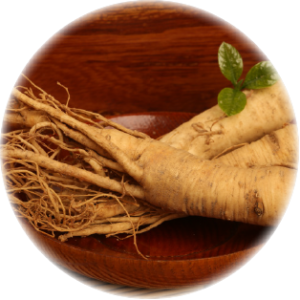 Ginseng refers to eleven different varieties of a short, slow-growing plant with fleshy roots. It has a warming, invigorating effect that enhances desire. It is ideal for female stimulation.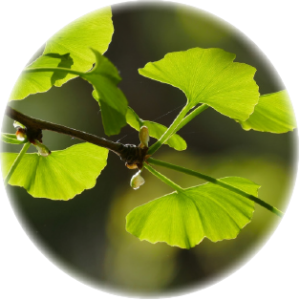 Ginkgo is a large tree with fan-shaped leaves. Ginkgo has represented growth, strength and power since time immemorial. This ingredient can therefore have an invigorating and stimulating effect.
pjur offers products for special needs
pjur med series is recommended for women who suffer from vaginal dryness
REASONS for vaginal dryness
Menopause
After pregnancy
Ingesting medication after chemotherapy or other
hormonal imbalances
Oral contraceptive pills
Improper intimate hygiene
Stress

CONSEQUENCES
The vaginal tissue is usually thick and well lubricated, and forms a clear fluid when sexually excited which facilitates penetration by the penis and protects the vaginal walls.
If this fluid cannot be produced in sufficient quantity, the protective effect fails to materialize, and the movements of the penis become unpleasant and painful.
The sensitive vaginal mucosa can actually become excoriated as a result.
Minor injuries can occur, often leading to infection and inflammation. 
SOLUTION: pjur med products
Thanks to the high-grade ingredients, the products of the pjur med series can provide valuable support, and that is why they are recommended by gynaecologists.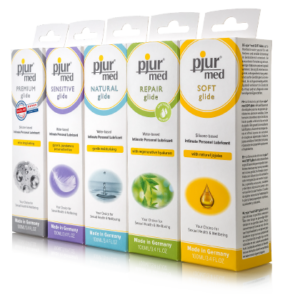 Contact Us
If you have any questions, suggestions or critics about the pjur products or the pjur brand please send us a message. We will gladly answer all your questions and feedback. Thanks from your pjur team.